CV-Boot kit
Our aim is to always provide the best coverage on the markets where we distribute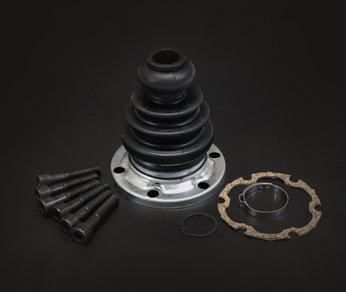 The purpose of the CV-boots are to protect the Constant-velocity joint, "CV-joint." CV-boot are normally filled with a special grease.
The choice of material is of critical importance to the life of the CV-Boot, and thus the durability of the CV-Joint. Wear factors that causes cracks or splits allow dirt and contaminants in, grease leaks out and the joint wears out quickly. Particles causes damage and scratching, water makes the metal rust and parts lack proper lubrication.
CDX CV-Boots are made of special high quality rubber in order to endure both extreme cold and heat, as well as other wear factors. We deliver complete kits, including steel CV-Boot clamps, special grease in a tube, assembly details and mounting instructions.
CDX consistently has opted for the best materials throughout the range; Rubber or Thermoplastic, depending on OE-specification.