Tripod
The market moves toward an increasing demand for the best possible coverage of the car park in each country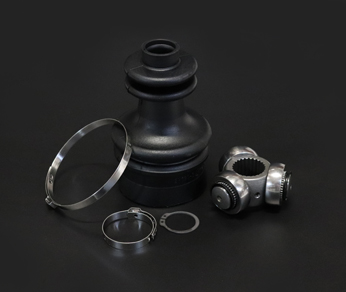 Tripod type CV-joint is a typical inner joint, even though it occur as an outer joint on some cars. It is located at the inboard end of car drive shafts. The purpose of the tripod is to enable power transmission also when angle shifts.
It consists of barrel-shaped rollers on a three-legged spider, which fits into a cup with three matching grooves that are attached to the differential. Rollers slide back and forth in an outer tulip housing.
The tripod lies in a tripod house. Though limited operating angles it's able to push back and forward through the grooves inside the tripod house, implying that the length of the shaft is allowed to vary as the suspension moves.
Movement of tripod joint is normally 50 mm of plunge travel and 26 degrees of angular articulation.